13 Dec 2021
5 Home Remedies to Curb Kid's Cold and Cough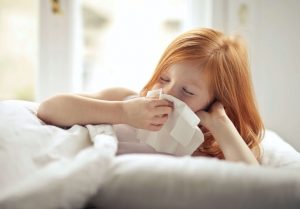 Being a parent is not easy.  You must do everything in your power to ensure that you will give the best for your child, including caring for their health constantly.  Children often get sick because they easily catch a cold or cough due to their young immune system, which cannot yet protect them from viral and bacterial infections. Many parents battle with their children suffering from colds and coughs. It is often challenging to handle the kids suffering shoulder pain because of coughing, sneezing, and nose running. As they cannot understand the problem, many parents look for quick home remedies to reduce or prevent children from suffering pain due to cold and cough.
Cough and cold are pretty common problems among children. They will develop this problem due to changes in weather, poor immunity, lack of proper rest, etc. Coughing may cause problems while sleeping or eating also.
Cough and cold symptoms can be uncomfortable for kids and sometimes even dangerous if left unattended.  There are some symptoms like fever which you should consider more severe than others.  In some cases, it might be prudent to bring your child to a doctor right away since
If you have a kid diagnosed with a cold and cough, you should know that homeopathy is a good treatment for cold and cough in children.  There are several safe medications that you can use to treat cold in your kid at home.  Here are some of the best remedies that you can give to your child suffering from a cold and cough:
1) Drink Plenty Of Fluids
Please keep your child well hydrated by encouraging them to drink enough fluids at regular intervals and avoid coffee or tea, which is diuretic in nature and causes dehydration. 6-8 glasses of water are what you must ask your kid to drink every day. It will keep them well hydrated all the time, which will prevent upper respiratory infections too. If they are thirsty, encourage them to have warm lemon water flavored with ginger & black pepper powder or, if possible green tea sweetened with honey.
2) Fluids With Herbs
Herbal fluids are made of effective ingredients which keep cold at bay & also provide relief from cough. It is an age-old practice to have ginger tea, peppermint tea, or licorice tea during this time of the year. You can make these herbal teas easily at home by mixing them with hot water.
3) Garlic Juice
Garlic is very rich in vitamins and minerals and has potent antimicrobial properties too. Crush a few garlic cloves finely and extract their juice in a cup. Allow it to settle down for 5-10 minutes so that all dirt settles at the bottom while keeping the top part as it is without disturbing it further. Now some honey into this garlic juice & offer it to your child. It will help improve their immunity & also provide relief from cough, cold & fever very quickly.
4) Basil Leaves Juice
Basil leaves are a rich source of antioxidants that are suitable for the immune system. Please take a few fresh basil leaves and extract their juice by blending them in a mixer grinder or blender. Give this juice to your child 2-3 times a day to keep them safe from cough, cold, and fever. You can add some honey to this juice if they find it too bitter.
5) Onion Syrup For Cough And Cold
Take one raw onion and cut them into small pieces so that all the juices come out properly without any resistance while blending. Add these small pieces to one cup of water & boil it on a medium flame so that all the onion pieces are boiled properly. Let the mixture cool down to room temperature. Strain this mixture and keep the clear syrup ready, which you can offer your child if they are suffering from a cold, cough, or fever.
He can have 2-3 teaspoons of this syrup every 4-5 hours for quick relief. It will help cure cough, cold, and fever very quickly as onions are an excellent expectorant & decongestant too.
Wrapping Up!
Try out these simple home remedies to cure your child's cough and cold at home. Consult a doctor if your kid's condition doesn't improve or worsen after a few days. This post is for information purposes only & not an alternative to taking doctor-prescribed medicines. Never take any decision regarding health without consulting a doctor first!